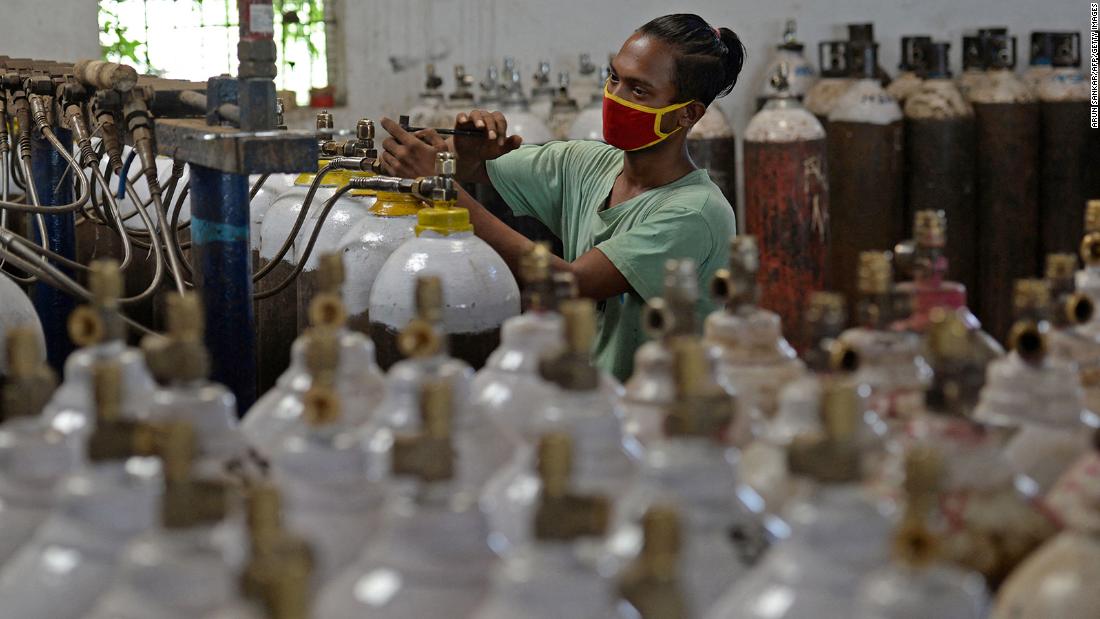 The more the virus spreads, the more chances it has to mutate and create variants that could eventually resist current vaccines, threatening to undermine other countries' progress in containing the pandemic, experts warn.
"If we don't help in India, I worry about an explosion of cases" around the world, said Dr. Ashish Jha, dean of the Brown University School of Public Health.
That's why India's Covid outbreak is a global problem that needs a coordinated response.
Some countries are already scrambling to send supplies.
US oxygen concentrators — medical devices that compress oxygen from the air — arrived earlier this week, and on Wednesday the UK, Italy and Germany committed more medical equipment, as Russian planes took off from Zhukovsky for Delhi carrying medicine, monitors and ventilators.
While the immediate priority is saving the lives of those already sick, vaccinating the country is considered crucial to stop the virus from spreading. But, despite being home to the world's biggest vaccine producer, India doesn't have enough doses, and there's no fast and simple way to make more.
Western countries have been criticized for vaccine stockpiling, but on Wednesday, British Health Secretary Matt Hancock said the UK didn't have any spare vaccines to send.
An equitable distribution of the vaccine around the world is essential, said Dr. Anthony Fauci, director of the US' National Institute of Allergy and Infectious Diseases.
If the Indian outbreak can't be contained and spreads to neighboring countries with low vaccine supplies and weak health systems, experts warn the world risks replicating scenes witnessed in India — especially if newer, potentially more contagious variants are allowed to take hold. And, as India has a leading role in making vaccines for other nations, failing to to stop its spread there could endanger the vaccine rollout worldwide.
Variants vs vaccines
In December, scientists detected a new variant, known as B.1.617, in India, though it's not known if this is driving the local outbreak owing to a lack of genomic surveillance.
Anurag Agrawal, director of the Institute of Genomics and Integrative Biology, said Friday there is a correlation, however, between the rising prevalence of variants and the surge in Indian case numbers.
"In Maharashtra we saw it (B.1.617) go up, we saw an outbreak. We are seeing it go up in Delhi, we are seeing an outbreak. These are very important epidemiological correlations," Agrawal said.
But he noted in Delhi and in north India, another variant, first identified in the UK and known as B.1.1.7, was more dominant than B.1.617. The B.1.1.7 variant is known to be more transmissible.
Fauci said recent data showed that India's homegrown Covid-19 vaccine, Covaxin, neutralized the B1.617 variant, which suggested that vaccinations could be used against it. "Vaccination could be a very, very important antidote," he said, though he added that more information was being gathered each day.
Other variants, first identified by scientists in South Africa and Brazil, are also believed to be more transmissible than the original strain and have already made their way into several other countries.
This would leave no country protected, no matter how many of its people have been vaccinated.
"For selfish reasons, every country should be concerned about large outbreaks that are out of control," Jha said. "Countries like the UK and the US are doing a great job with vaccinations, and they should be feeling great about it, but that's only as good as variants that are out there."
The need to help sustain India's vaccine infrastructure
Beyond the risk of new variants, India's second wave of cases presents another, more immediate problem for the world.
The country is a major player in COVAX, the global vaccine-sharing initiative that provides discounted or free doses for lower-income countries.
The Serum Institute of India (SII) had already delivered 28 million doses of the AstraZeneca vaccine, COVAX said in a statement in March, but was due to ship another 90 million doses in March and April.
Those deliveries would be delayed, it warned, due to rising demand within India.
"I don't think the global leadership has woken up to the scenario of how bad this delay can be for the world," said Shruti Rajagopalan, a Senior Research Fellow at the Mercatus Center at George Mason University.
The moment India is short on vaccines and keeps its supplies for domestic purposes, it means other countries like South Africa and Brazil have to wait, she said. "You're delaying the world getting vaccinated by many months," Shruti added.
John Nkengasong, the director of Africa's disease control body, warned earlier this month that India's hold on exports could be "catastrophic" for the continent's vaccine rollout.
The Indian experience underscored the importance of diversifying the supply chain, and COVAX was trying to make deals with more vaccine manufacturers, which would be announce soon, it said.
Modi's pandemic response
Before its own coronavirus crisis, India assumed a leadership position in the global effort to end the pandemic.
For example, Modi allowed a massive weeks-long Hindu pilgrimage to proceed with millions of attendees traveling across numerous states, and his political party held large rallies for upcoming elections in four states and one union territory.
The Prime Minister has acknowledged the scale of the crisis, and is trying to speed-up the nationwide vaccination program. From May 1, state governments and private providers will be allowed to vaccinate those who are 18 and older.
The cost of each vaccine dose is dropping too, after the Serum Institute of India (SII) said it would charge less per dose so the states can vaccinate more people. Effective immediately, each dose will cost Rs.300 per dose, down from Rs.400, the equivalent of a drop from $5.30 to $4 per dose, the SII said.
But with hundreds of thousands of new cases each day, India needs much more help to contain the outbreak.
A WTO fight further corners low-income nations
India has tried to create more flexibility in the market for vaccines.
At a World Trade Organization (WTO) meeting last year, India and South Africa proposed that the organization temporarily suspend intellectual property rights in an effort to boost production of Covid-19 vaccines for low-income nations.
But richer countries, including Britain, Switzerland, EU nations and the US, blocked it, arguing that suspending the IP would not result in a sudden surge of vaccine supply.
Protecting the IP would encourage research and innovation, they said.
Jha, from the Brown University School of Public Health, said IP wasn't the major roadblock to more vaccines. He said the main problem was a lack of capacity.
"If we made IP available today, we will not add vaccines today. It's about tech transfer, knowledge of making vaccines. This is really about a complex biological agent. It's not clear to me that India has a lot of unused vaccine capacity. The issue is building new capacity," Jha said.
However, this brings things back to square one. The longer India's health care system is unable to respond to this public health crisis and the longer the vaccines remain in shortage, the longer this virus will continue to be a threat to the world.
This global pandemic needs a global coordinated response.
"That's the reason why we and other rich countries have to exert what I think is a moral responsibility to help the rest of the world get this under control," Fauci said.
"A year from now we'll be in really much better shape than we are now, but there'll be other countries that won't be. The quicker we get the rest of the world protected, the more secure will our protection be."